Below are our products inspired by universal teachings from the Bahá'í Faith and being a world citizen.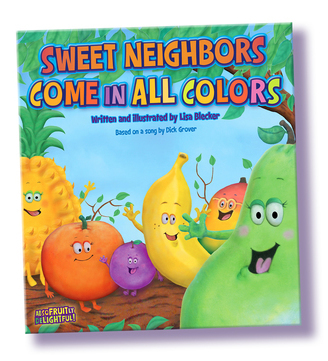 Sweet Neighbors Come in All Colors Author and Illustrator: Lisa Blecker, Based on a song by Dick Grover, Book Design and Sketch Editor: C. Aaron Kreader.
This award-winning children's picture book (purchase here) will not only provide children with the opportunity to explore shapes, sizes, and colors, but will offer families the chance to discuss concepts such as unity and diversity. Included in this fantastic hardcover picture book is sheet music for the children's recording in the video you see on this page. See reviews and sing along with the music video here!

Join the Sweet Neighbors facebook community here.
Zanjan Art by C. Aaron Kreader & Written by Aaron Emmel
Navid's search for truth will take him from the quiet village where he grew up to the greatest cities of nineteenth-century Persia — and ultimately into the middle of a war that will tear apart families, challenge the country's most powerful leaders, and force him to question everything that he thought he knew. Check out the interview here.

Zanjan is a historical fiction graphic novel that brings The Dawn-Breakers' heroism and inspiration to life. Purchase here. The book is produced by the Baha'i Publishing Trust.
Brilliant Star Magazine Includes work by C., Aaron Kreader & Lisa Blecker
Brilliant Star is an award-winning international publication based on the teachings found in the Bahá'í Faith. It empowers children ages 8-12 of all faiths to explore their roles as world citizens. This colorful and interactive magazine encourages readers to use their virtues to make the world a better place. It explores universal concepts such as respect for nature, appreciation for cultural and racial diversity, peace among all religions and nations, the equality of women and men, and the elimination of prejudices.
Subscribe to Brilliant Star Magazine here or call (800) 999 9019
Blessed Is the Spot: A First Prayer Book Art and Animation by Lisa Blecker
Children of all faiths will enjoy this simple yet powerful prayer that honors every place where God is praised. Animated DVD included. What makes a place sacred? Come on a journey through land, cave, and sea to find out! The young and young at heart can sing along with this delightful prayer book and animated DVD. Mom's Choice Award Gold Medal recipient.
Spirit Clips: Art for Baha'is Art by Lisa Blecker & C. Aaron Kreader
Mac and PC Compatible. Over 150 original pieces of line art. Plus, over 100 colorized images. Disk includes a wide variety of themes. Ideal for flyers, cards, newsletters, web pages, children's class materials, Holy Day programs and more.